Local Realtor
Erin Johnson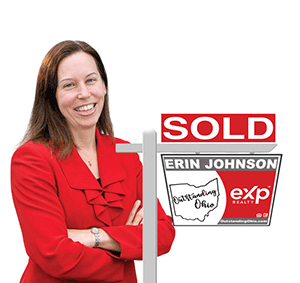 Helping people buy and sell houses and live their best lives in the outstanding state of Ohio.
Erin is a proud Ohioan on a mission to be Ohio's most resourceful Realtor, dedicated to empowering individuals to navigate the real estate market and lead their best lives in the outstanding state of Ohio. Her expertise lies in serving clients in the areas of Copley, Fairlawn, Bath, and throughout Summit County, with a readiness to extend her support to most of Northeast Ohio.
Erin's commitment to her clients goes beyond transactions; she is passionate about education. She takes the time to conduct comprehensive consultation meetings with both buyers and sellers, guiding them through the intricacies of the market and setting clear expectations. Erin's dedication to knowledge-sharing extends to her webinars and a library of informative videos covering various topics relevant to both home buyers and sellers.
Erin also extends her expertise to newcomers considering a move to the Akron area. Her informative videos showcasing Akron and its surrounding suburbs, featured on her Outstanding Ohio YouTube page, provide valuable insights and help make the relocation process seamless.
Furthermore, Erin is the driving force behind the local Facebook Group, "Outstanding Ohio," boasting over 1800 members from Northeast Ohio. In this engaging community, she consistently delivers value-added content that celebrates Ohio's people, places, and unique attributes. Join the group today to connect with other Outstanding Ohioans!
Erin also hosts monthly networking events, both in-person and virtual, fostering connections among small business owners and entrepreneurs across Northeast Ohio. She takes immense pride in curating a positive community that adds value to countless individuals, nurtures meaningful connections, and supports the growth of local businesses.
Erin lives in Fairlawn with her husband, Russ, and two teenage daughters. When not cheering on her daughters at volleyball games, she indulges in her passion for reading, crafting, volleyball, and cherishing quality family vacations.
Check out some of the homes Erin has helped clients buy or sell
With a concentration in the Akron suburbs, Erin has also helped clients in other areas of NE Ohio such as Canton, Medina, Westlake, Lakewood, and Lyndhurst
in price points ranging from $33,000 to $965,000.